How to Choose a German Shepherd Puppy
Choosing a German Shepherd puppy does not have to be so confusing. Bringing home a new German Shepherd puppy takes lots of planning ahead of time and plenty of puppy proofing. Depending on which German Shepherd puppy you choose you're easily going to share your life with this new addition for 12 years or more. And depending on which GSD puppy you choose and how well you socialize and train your new puppy, that time spent with your German Shepherd puppy can be great or terrible or anywhere in between. Expect to pay between $400 and $1300 for a quality German Shepherd puppy. You will spend some money up front, but more money invested will save you in vet and other bills in the end. Buying a quality puppy ensures the suppport of a reputable breeder.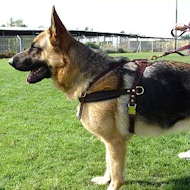 Look for a GSD breeder who is truly interested in her breed and much more interested in finding a proper home for her puppies than simply getting paid. Any breeder who is simply in it for the money has the wrong motivation all together. Take the time to talk with the breeder more than once via the phone, email, etc. and visit the German Shepherd litter more than once if possible before making your decision.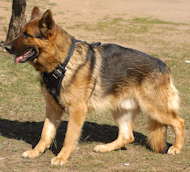 Also, does the breeder offer a guarantee? What type? What kind of documentation do you get with the German Shepherd puppy? What about the registration papers? Pedigree? What other things go home with the new puppy? Food? Collar? Other paperwork? Did you get to meet the parents of the puppies and the litter mates? Did you get a chance to have hands on time with them? A reputable German Shepherd breeder will offer all of this and more. Don't expect any less.
Warnings
Research the history of incidence of all diseases in the puppy's parents and further down in its lineage. Your breeder should be able to discuss any likelihood of these diseases developing in your German Shepherd puppy.
Other things to worry about are the potential threat of hip and elbow dysplasia which are very common in many large breeds, the German Shepherd included. There are many tests available for your GSD puppy that help screen your dog for these conditions. Disorders of this type are screened by evaluating x-rays of a dog's joints, hip or elbow. The Orthopedic Foundation for Animals (OFA), a nonprofit foundation evaluates and registers X-rays, is the most common certification.
Here you can get high quality German Shepherd dog harnesses, German Shepherd dog muzzles, German Shepherd dog collars and dog leashe  - German Shepherd Harness , German Shepherd Collar , Dog Leash , German Shepherd Muzzle Trusted Direct Source - www.german-shepherd-dog-breed-store.com